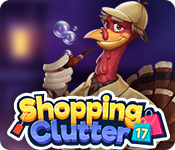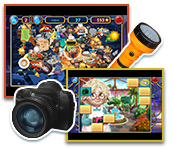 Peaceful Animalville is in upheaval when young Hare Walker's shiny new bicycle is stolen from his home in the heart of town! The Walkers are a family of action, so they open their very own detective agency to investigate this dastardly crime. They'll need plenty of help getting their new office set up, organized, and stocked, so let's hop to it and put those super sleuth skills to the test in this puzzling clutter caper!
Cursed House 11

Sudoku Variants

Samurai Solitaire:

More Card Games..

Shopping Clutter

Clutter's Greatest

Vacation

More Hidden Object Games..

Shopping Clutter

Vacation

Shopping Clutter

More Kids Games..

Spellarium 8

Laruaville 12

Mahjong Riddles

More Mahjong Games..

Cursed House 11

Angkor: Beginnings

Jewel Match Origins

More Match 3 Games..

Elven Rivers: The

Hero of the

Brave Deeds of

More Strategy Games..

White Rabbit's

Golden Rails:

Golden Rails:

More Time Games..