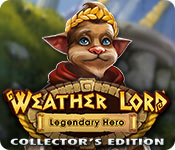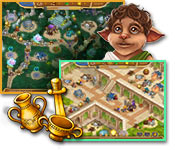 Everything seemed to be going well for Weather Lord and his wife, Olivia. They left their homeland to enjoy a vacation, but when they arrived, their island destination was in ruins! Without warning, Olivia got sucked through a portal and the gateway closed, spiriting her away to an unknown land! But our hero will always find a way to make things right. Now you must call upon the gods of Olympus to help you rescue your beloved, before all hope is lost!
Weather Lord:

Roads of Rome: New

12 Labours of

More Adventure Games..

Big Fish Casino

Cursed House 3

Emerland Solitaire:

More Card Games..

1001 Jigsaw Earth

Sliders and Other

Jigsaw Puzzle Beach

More Jigsaw Games..

Mahjong Magic

All-in-One Mahjong

Mahjong Escape

More Mahjong Games..

Secrets of Magic:

Chateau Garden

Magic Haven

More Match 3 Games..

Grim Facade:

Chimeras: Cursed

The Secret Order:

More Puzzles..

Virtual Families 2

Virtual Villagers:

Fables of the

More Strategy Games..

Pirate Chronicles

Fabulous: Angela's

Prehistoric Tales

More Time Games..