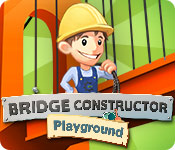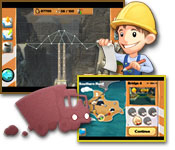 Let your creative side run riot, anything is possible! Build bridges over deep valleys, canals or river and make sure they can support the weight of the cars and/or trucks which drive across them. Will they be able to pass the stress test? An extensive tutorial is available, that means no fixed budget and no limitations. Here you are free to do as you please - build and construct to your heart's desire!
Eternal Journey:

Drawn: Trail of

Lucky Luke:

More Adventure Games..

Big Fish Casino

Emerland Solitaire:

Solitaire Stories:

More Card Games..

Hidden Object: Home

Halloween: Trick or

Surface: Game of

More Hidden Object Games..

Holiday Jigsaw

Holiday Jigsaw

Holiday Jigsaw

More Jigsaw Games..

Doras Carnival 2:

SpongeBob

Bob the Builder:

More Kids Games..

Art Mahjong 3

Mahjongg Variations

Halloween Stories:

More Mahjong Games..

The Trials of

Fishdom: Depths of

Fishdom 3

More Match 3 Games..

BRIDGE CONSTRUCTOR:

Mystery Case Files:

Dark Parables:

More Puzzles..

Iron Heart 2:

Hospital Manager

Risen Dragons

More Strategy Games..

Rescue Team 5

Incredible Dracula:

Sweetest Thing 2:

More Time Games..