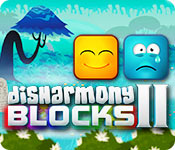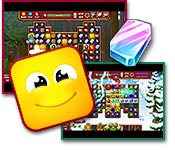 Travel back to a time and place where emotions exist as real sentient beings! As a newly qualified Harmony Sage, you are summoned to the land of Sundast to discover the root cause of disharmony and upset. Help bring the Disharmony Blocks under control and discover what other nefarious forces are at work here in this exciting match-3 adventure! Match Disharmony blocks to harvest energy, use perks to quickly gain XP and move diagonally, and visit the shop to buy or upgrade potent spells!
Sally's Studio

Ranch Rush 2

The Sparkle 2: Evo

More Action Games..

Adelantado Trilogy:

Northern Tale

New Yankee in King

More Adventure Games..

Vacation

Arcanika

Call of Atlantis:

More Hidden Object Games..

Jigsaws Galore

Holiday Jigsaw

Royal Jigsaw 2

More Jigsaw Games..

Putt-Putt Saves the

Doras Carnival 2:

Dream Builder:

More Kids Games..

Mayan Prophecies:

Age of Mahjong

Mahjong World

More Mahjong Games..

Tales of the

Fantasy Quest

The Adventures of

More Match 3 Games..

Cadenza: Music,

Surface: Reel Life

Dark Strokes: The

More Puzzles..

Iron Sea Defenders

Virtual Families 2

Virtual Villagers:

More Strategy Games..

The Beardless Wizard

Northern Tale 3

Gardens Inc. 2: The

More Time Games..