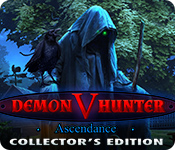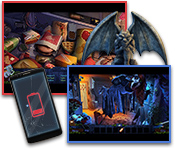 Demon Hunter V: Ascendance contains explicit content and is intended for mature audiences. When Hector, Demon Hunter for hire, agreed to save a lost tourist from the haunted Museum of Mysticism and Monstrosity, he never imagined that it could all be a clever hoax staged just for him. Hector will need all his cleverness and intuition to find the truth in this double mystery. Are demons real or was it all about the money? Find out by playing Demon Hunter V: Ascendance!
Gummy Drop!

Trito's Adventure

Relic Rescue

More Action Games..

Roman Adventure:

New Yankee in

Elven Legend 6: The

More Adventure Games..

Big Fish Casino

Emerland Solitaire:

Santa's Christmas

More Card Games..

Midnight Castle

Mary Knots: Garden

Wanderland

More Hidden Object Games..

1001 Jigsaw Earth

Jigsaws Galore

Travel Riddles:

More Jigsaw Games..

Bob the Builder:

SpongeBob

Pajama Sam 3: You

More Kids Games..

Jewel Match Royale

Jewel Match

Jewel Match Royale

More Mahjong Games..

Save Halloween 2:

Imperial Island 4

Autumn in France

More Match 3 Games..

Dark Parables: The

Dark City: Munich

Chimeras:

More Puzzles..

Fables of the

Fables of the

Virtual Families 2

More Strategy Games..

Kids of Hellas:

Rescue Team 8

Rescue Team 8

More Time Games..

Hidden Object

Word Web Deluxe

Hidden Object

More Word Games..