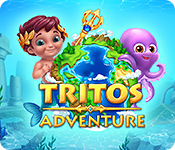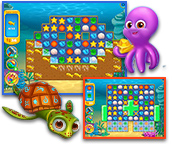 Help Trito, son of Poseidon, save his family and the entire underwater kingdom from the intrigues of the sly Sea Witch. The wicked sorceress has charmed the Sea God, broke his trident and scattered its fragments across the ocean. Embark on a vibrant match 3 adventure through ocean worlds, meet unique underwater creatures, restore the sea garden and rebuild fabled underwater cities!
Trito's Adventure

Gummy Drop!

Relic Rescue

More Action Games..

Roman Adventure:

New Yankee in

Elven Legend 6: The

More Adventure Games..

Big Fish Casino

Emerland Solitaire:

Detective

More Card Games..

Midnight Castle

Wanderland

Mystery Trackers:

More Hidden Object Games..

1001 Jigsaw Earth

Jigsaws Galore

Travel Riddles:

More Jigsaw Games..

Bob the Builder:

Putt-Putt Saves the

SpongeBob

More Kids Games..

Jewel Match Royale

Halloween Stories:

Jewel Match

More Mahjong Games..

Save Halloween 2:

Imperial Island 4

Autumn in France

More Match 3 Games..

Dark Parables: The

Dark City: Munich

Chimeras:

More Puzzles..

Fables of the

Virtual Villagers:

Fables of the

More Strategy Games..

Kids of Hellas:

Rescue Team 8

Rescue Team 8

More Time Games..