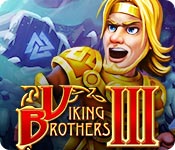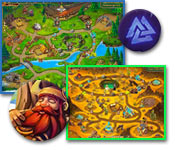 Ready your weapons and answer the call of the gods to save the universe from evil! Viking Brothers 3 invites you to journey through stunning environments to face a host of enemies as you solve the mystery of a dark god's plan. Packed with thrilling challenges, an epic tale of gods and men and addictive fun, Viking Brothers 3 is an instant classic!
Roads of Rome: New

Elven Legend 5: The

New Yankee in King

More Adventure Games..

Big Fish Casino

Emerland Solitaire:

Jewel Match

More Card Games..

Pirate Jigsaw 2

1001 Jigsaw World

Pirate Jigsaw

More Jigsaw Games..

Putt-Putt Saves the

Bob the Builder:

Dream Builder:

More Kids Games..

Jewel Match Royale

All-in-One Mahjong 2

All-in-One Mahjong

More Mahjong Games..

Queen's Garden

Treasures of Persia

Athens Treasure

More Match 3 Games..

Labyrinths of the

Cadenza: The

Medium Detective:

More Puzzles..

Fables of the

Virtual Villagers:

Fables of the

More Strategy Games..

Viking Brothers 3

Incredible Dracula

Viking Brothers 3

More Time Games..