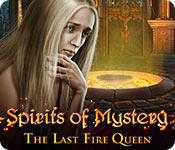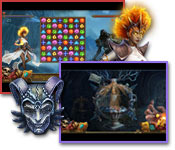 Amax Interactive presents the next installment of the Spirits of Mystery series! The Great Flame is almost out! As the princess, it's up to you to find your long-lost twin sister and save the realm. But it won't be an easy task. The curse on your sister is the least of your worries as you battle dark forces to reclaim the throne! Do you have what it takes to save the kingdom and take your rightful place? Find out in this spell-binding hidden-object puzzle adventure game!
Gummy Drop!

Heroes of Hellas 4:

Relic Rescue

More Action Games..

New Yankee in King

Roads of Rome: New

New Yankee in King

More Adventure Games..

Big Fish Casino

Emerland Solitaire:

Fantasy Quest

More Card Games..

Pirate Jigsaw 2

Jigsaws Galore

Holiday Jigsaw

More Jigsaw Games..

SpongeBob

Bob the Builder:

Putt-Putt Saves the

More Kids Games..

Jewel Match

Jewel Match Royale

Mahjong Masters:

More Mahjong Games..

Jewel Match Royale

Treasures of the

Dress Cake

More Match 3 Games..

Spirits of Mystery:

PuppetShow: The

Shadowplay: The

More Puzzles..

Virtual Villagers:

Fables of the

Virtual Families 2

More Strategy Games..

Delicious: Emily's

Incredible Dracula

Viking Brothers 3

More Time Games..

Hidden Object

Word Wizard Deluxe

Amazing Pyramids

More Word Games..