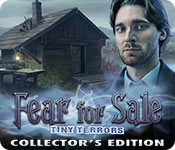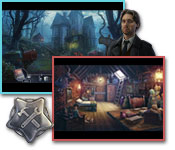 EleFun Games proudly presents the next spine-tingling installment in the Fear for Sale series. Fear for Sale magazine has just won an award, but the celebration is cut short when the office is attacked by murderous dolls. You arrive in time to save your friends, only to find yourself blamed for the attack. Can you solve the mystery of the dolls and their connection to a mysterious businessman in time before it's too late? Find out in this chilling hidden-object puzzle adventure!
Gummy Drop!

Heart of Moon: The

Rune Lord

More Action Games..

Alicia Quatermain

New Yankee in King

Roads of Rome: New

More Adventure Games..

Big Fish Casino

Emerland Solitaire:

Wedding Gone Wrong:

More Card Games..

Midnight Castle

Wanderland

Found: A Hidden

More Hidden Object Games..

1001 Jigsaw World

Jigsaws Galore

1001 Jigsaw Earth

More Jigsaw Games..

Putt-Putt Saves the

SpongeBob

Bob the Builder:

More Kids Games..

Laruaville 4

Summertime Mahjong

Jewel Match Royale

More Mahjong Games..

Jewel Match Royale

Rune Stones Quest 2

The Enthralling

More Match 3 Games..

Mystery Case Files:

Tales of Terror:

Midnight Calling:

More Puzzles..

Fables of the

Virtual Villagers:

Virtual Families 2

More Strategy Games..

Sally's Salon: Kiss

Archimedes: Eureka!

Viking Brothers 4

More Time Games..