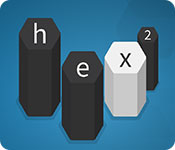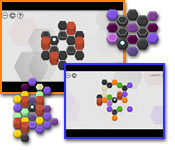 Make your way by clearing tiles as you jump your way to victory in this beautiful and unique puzzle game! Jump either one or two spaces in any of six hexagonal directions. In Hex 2 you'll encounter multiple different types of tiles, each one posing a new challenge more difficult than the last. It's up to you to choose the order in which you move, can you clear them all?
Gummy Drop!

Heart of Moon: The

Rune Lord

More Action Games..

Alicia Quatermain

New Yankee in King

Roads of Rome: New

More Adventure Games..

Big Fish Casino

Emerland Solitaire:

Wedding Gone Wrong:

More Card Games..

Midnight Castle

Vacation

Wanderland

More Hidden Object Games..

1001 Jigsaw World

1001 Jigsaw Earth

Jigsaws Galore

More Jigsaw Games..

Putt-Putt Saves the

SpongeBob

Dream Builder:

More Kids Games..

Jewel Match Royale

Laruaville 4

Summertime Mahjong

More Mahjong Games..

Jewel Match Royale

The Enthralling

Rune Stones Quest 2

More Match 3 Games..

Queen's Quest IV:

Whispered Secrets:

PuppetShow: Faith

More Puzzles..

Virtual Villagers:

Fables of the

Virtual Families 2

More Strategy Games..

Sally's Salon: Kiss

The Witch's

Viking Brothers 4

More Time Games..