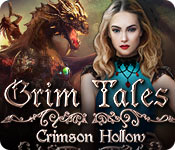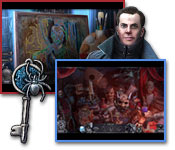 Elephant Games proudly presents the newest addition to the Grim Tales series! You've been called in to investigate the disappearance of a girl from a local boarding school. She was last seen with the mysterious Dorian Black. What starts as a simple investigation quickly takes a dark turn when you start falling victim to the magic of Crimson Hollow! Can you save the missing girl before it's too late, or will you fall to darkness? Find out in this spine-tingling hidden-object adventure!
Elven Legend 3: The

Elven Legend 3: The

Roads of Rome: New

More Adventure Games..

Big Fish Casino

Solitaire Beach

Emerland Solitaire:

More Card Games..

Vacation

Vacation

Hidden Object: Home

More Hidden Object Games..

Travel Riddles:

1001 Jigsaw World

Sliders and Other

More Jigsaw Games..

Doras Carnival 2:

Bob the Builder:

Putt-Putt Saves the

More Kids Games..

Mahjong Deluxe 3

Lost Amulets: Stone

Sakura Day Mahjong

More Mahjong Games..

Fishdom: Depths of

Fishdom 3

Imperial Island 3

More Match 3 Games..

Grim Tales: Crimson

Haunted Hotel:

PuppetShow: Her

More Puzzles..

Fables of the

Virtual Families 2

Virtual Villagers:

More Strategy Games..

Delicious: Emily's

Heart's Medicine:

Incredible Dracula

More Time Games..