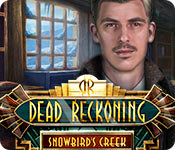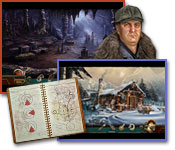 The small town of Snowbird's Creek is famous for being a historical Klondike Gold Rush town, but now the town is divided on the new railway project that could make or break their little community. When the project threatens to close down for good, the workers go on strike, until the out-of-town railroad tycoon spearheading the project is found murdered. The suspects start piling up, but you must determine who really killed Seth Savage.
Elven Legend 3: The

Elven Legend 3: The

Roads of Rome: New

More Adventure Games..

Big Fish Casino

Solitaire Beach

Emerland Solitaire:

More Card Games..

Vacation

Vacation

Hidden Object: Home

More Hidden Object Games..

Travel Riddles:

1001 Jigsaw World

1001 Jigsaw Earth

More Jigsaw Games..

Doras Carnival 2:

Bob the Builder:

Putt-Putt Saves the

More Kids Games..

Mahjong Deluxe 3

Laruaville 4

Lost Amulets: Stone

More Mahjong Games..

Fishdom: Depths of

Fishdom 3

Imperial Island 3

More Match 3 Games..

Dead Reckoning:

Dark Parables: The

Haunted Hotel:

More Puzzles..

Virtual Families 2

Fables of the

Virtual Villagers:

More Strategy Games..

Delicious: Emily's

Heart's Medicine:

Incredible Dracula

More Time Games..