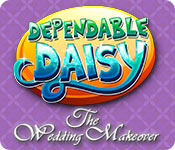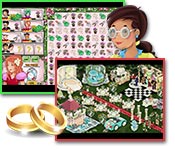 Zoe's wedding arrangements have hit a roadblock! And she has no one but her best friend Daisy to get her out of this mess. With Dependable Daisy, play three different types of match 3 games in different shops of the town to earn cash and special currency. Buy the best decor to make the wedding venue look out of this world. Give the catering and the music an edge by hiring celebrity singers and a master chef. Get bonus wedding presents as a sweet surprise for Zoe.
Eternal Journey:

Drawn: Trail of

12 Labours of

More Adventure Games..

Big Fish Casino

Emerland Solitaire:

Solitaire

More Card Games..

Holiday Jigsaw

Jigsaw Mania

1001 Jigsaw World

More Jigsaw Games..

Pajama Sam 3: You

Bob the Builder:

Go Diego Go

More Kids Games..

Jewel Match Royale

Jewel Match Royale

Mahjong Epic 2

More Mahjong Games..

Dependable Daisy:

Artifact Quest 2

Fishdom: Depths of

More Match 3 Games..

Virtual Villagers:

Virtual Families 2

Beholder

More Strategy Games..

Wedding Salon 2

Weather Lord:

Incredible Dracula

More Time Games..