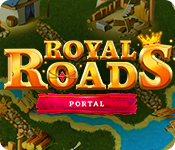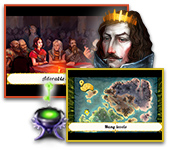 8FLOOR Games brings you the newest spell-binding adventure in the Royal Roads series! No one ever said running a kingdom would be easy, and when the elders of other lands reach out for your help, you're off on a quest to save the day! A dangerous wizard with a lust for power is set on bending the kingdoms to his will, but he can't do it alone. His plan to bring otherworldly warriors to his aid through a portal is underway, and only a ruler like you can stop him before it's too late!
1001 Jigsaw Home

1001 Jigsaw Legends

1001 Jigsaw Earth

More Jigsaw Games..

Laruaville 12

Spellarium 7

Laruaville 11

More Mahjong Games..

Gaslamp Cases 4:

Tower of Wishes 2:

MatchVentures 3

More Match 3 Games..

Roads of Rome:

Rescue Team: Heist

Roads of Rome:

More Strategy Games..

Royal Roads: Portal

Roads of Rome:

New Yankee: Battle

More Time Games..

Puzzle Box

Hidden Object

Amazing Pyramids:

More Word Games..